The strides young athletes make undoubtedly rejoice and inspire us with enthusiasm.

This time Mediamax Sport's "Future Stars of Big-Time Sports" series will present about Greco-Roman wrestler Zaven Mikaelyan.

Sports: Greco-Roman wrestling

Age: 17

Studies at Armenian State Institute of Physical Culture (ASIPC)

Lives in Etchmiadzin

Titles: winner of Armenian Youth Championship, silver medalist at European and Youth Olympics

Favorite wrestler: Arsen Julfalakyan

Favorite poet: Yeghishe Charents

Goals: Become Olympic Champion but prior to that, win gold medals at the European Championship and World Cup

Choice of sports and idols: As a kid, I was very active and my parents decided that sport is what the overabundance of my energy could be properly spent on. I have always been inspired by Arsen Julfalakyan and Artur Aleksanyan.

I watched on TV the competitions of our popular Armenian wrestlers and wanted to be like them. Arsen is my idol; we have the same coach and we train together. I adore his modesty and humble behavior.

First achievement: I started competing at the age of 7 in 29kg weight category. I achieved my first success at the tournament organized by the Rural Sports Union of Sevan. I won the tournament and received an acknowledgement letter. Afterwards, I won a number of medals but the silver medal I won at Nanjing 2014 Youth Olympic Games is the most valuable one.

Olympic practice: I was very well prepared to leave for Nanjing. I had had 6 training camps and was in a good form. I just didn't manage to win it. It was mostly due to lack of practice and highly strained state. My goal of life is to gain revenge to him. Wrestlers always feel upset when they come in the second place and I was not an exception. Only the next day I realized the important work I had done and that I had won a medal in a most important tournament. I felt I had done a good deed for my country. I was very happy to know our entire nation was standing by me with its support and encouragement. I gained huge practice at the Olympics.

Unforgettable China: The 19 days we spent in China were unforgettable. We were a big family in which all were supporting and encouraging one another. A number of athletes came to support me. I remember a funny thing happened there. We had canteen cards but it happened so that I forgot my card in the hall and thus remained hungry for an entire day.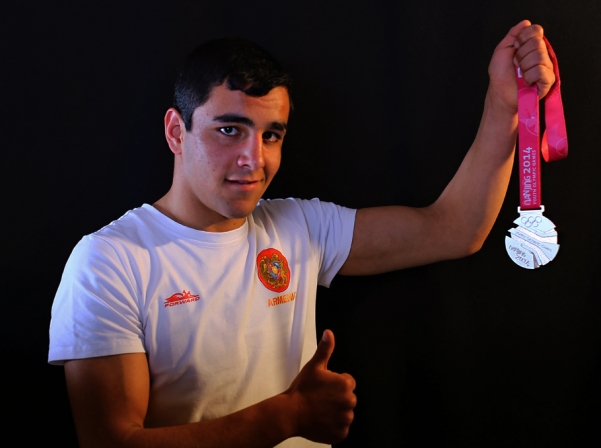 Zaven Mikaelyan

Photo: Mediamax


Victories dedicated to the mother: I take losses too hard – I hate losing even when playing with my friends. I want to always be a winner. At least a week should pass after the loss for me to forget everything and get to normal training. Losses help train better as you can see the errors better and do your best to correct them. Nothing happens after victories. I always devote by victories to my mother. She helps me greatly; she wakes me up for morning trainings. Everything I have attained is owing to her.

Wrestling is strength: The most difficult in sports is to struggle, stand till the end and always be the first. Things like "not to love, not to be able" do not exist for an athlete – everything should be tried. Wrestling has given me strength to struggle, aspiration to win and ability to be a good person. In this technology era, it is impossible to hide your tricks from the opponents. Just like all athletes I also have my weak aspects. I think my physical aspect is a bit lame.

Fan of Manchester United and Psychology: I love watching football and wrestling in my spare time. I am a fan of "Manchester United." I also do my best to attend my classes – I train early in the morning and then go to institute. Especially much, I love psychology classes – I learn much from them.

Anticipation for 2020 Olympics: Just like all athletes, I also dream of the Olympics and of winning it. I think I will be too young for Rio 2016 Olympic Games. My goal is to take part in 2020 Olympics in Japan. Meanwhile, I want to become Champion of Armenia this year and go to the European Youth Championship and the Youth World Cup.

Hasmik Babayan talked to Zaven Mikaelyan

Simon Martirosyan and Arman Mikaelyan were the previous guests of the series.