Armenia hasn't had a participant in finals of World, European Championships or Olympic Games in swimming since the independence.

Artur Barseghyan was able to fill that gap and qualify for the final in Youth Olympic Games.

This issue of Future stars of big-time sports will cover the story of Armenian swimmer with big dreams.

Sport: swimming

Personal coach: Armine Avetisyan

Age: 16

Place of Residence: Yerevan

Education: Manuk Abeghyan High School No. 3 (11th grade)

Favourite subject: English language

Sport idol: Michael Phelps

Achievements: Winner of 2017 Armenian Cup, Armenia's multiple recordsman, winner and medalist of Pan-Armenian Games, participant of Youth Olympic Games

Goals: gold medal in Olympic Games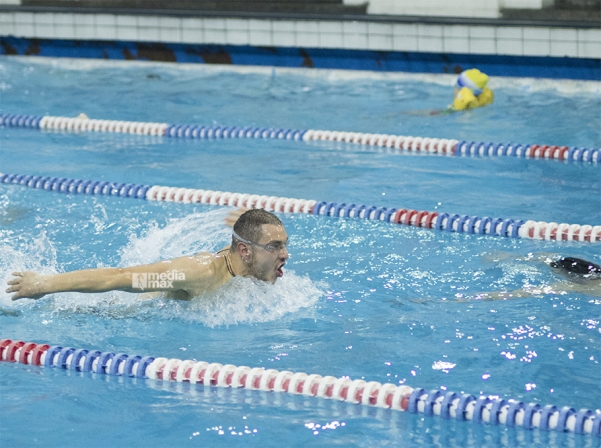 Photo: Mediamax


Swimmer who likes wrestling: I have always swum. I was only two years old, when I fell into the pool at our garden; my parents saved me with difficulty. Soon they decided that I should attend swimming classes. My grandfather was the first to accompany me to swimming.

If I were to choose back then, I would have definitely chosen wrestling. I like that sport a lot and the competition in the process. However, that doesn't mean that I regret specializing in swimming, as I have already registered a number of achievements here and I aspire to more.

Swimming is a very beautiful sport, and it is my second best friend (first are my parents and childhood friend Tigran Grigoryan). All worries and stress disappear as soon as I enter the water. Swimming takes away all the negative energy.

The power of Olympic Games: Youth Olympic Games is the first significant competition in my life. My family and friends were very happy when they found out that I qualified for the games. Together with my coach I decided to reach the semi-final, and this was the toughest competition that I have ever experienced.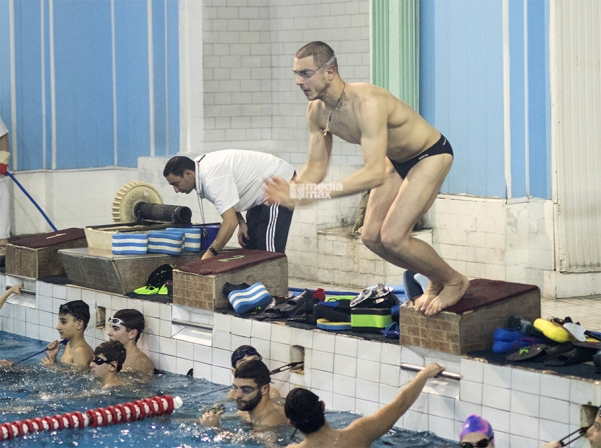 Photo: Mediamax


Our team stayed at the Olympic village, and that atmosphere is enough to feel the importance of the competition. The village gives you strength, making you understand what a serious task you are about to accomplish. Then the first training came, when I met all my competitors. My heart started to beat faster and I felt that I could perform well.

Joy and tension in one day: I performed in 50m freestyle. I qualified for the semi-final with 23.17 result, and this was what we were preparing for. My result in the semi-final was 22.69 and I qualified for the final. This was an incredible and unexpected outcome for me. I was very happy, and I wanted to dance, to jump, but soon I was able to calm down and take a rest, as the final was on the next day. I wasn't feeling well, when I got to the village. The tensions caused dizziness and headache. I simply isolated myself and didn't talk to anyone. Leaving the room seemed wrong to me, and I was thinking only about the final. It disturbed me a lot and in the end I took only the 8th place with 23.13 result.

Lack of experience and lessons learned from games: Having passed this experience, I understood that communicating with teammates is the best way to achieve the best result without having to concentrate on the competition. You need to be joyful and take it easy. I also understood that those tensions came from my lack of experience in similar large events. I learned a lot from the Olympic Games, and that experience moved me 2-3 steps forward.

Photo: Mediamax


Now I aspire to more strength and height. The Olympic Games was an unforgettable dream that came true and helped me make the right decisions.

Semi-final that gave confidence: I didn't know that I was the first Armenian swimmer who qualified for the final. I was happy when I found out, but that doesn't mean anything, as it simply obliges me to do more for Armenia. It gave me confidence that I can achieve more.

I made great friends during the Olympic Games. First I wasn't acquainted with our athletes, but when we got to know each other, we easily became friends, as if we were brothers. We have spent good and unforgettable days together, and we learned a lot from them.

Photo: Mediamax


Second mother: I spend about 5-6 hours with my coach, and she is my second mother. Ms. Armine is always by my side, when I am happy, sad, and she accepts me just the way I am. She always says that if I am committed, this is the right way to go, and I need to follow her advice. All my coaches Mr. Misak, Arman, Karen, Vigen, and Ms. Nelli play an important role in my life. They do everything possible so that I become a medalist.

The promise to the grandfather: My family, relatives and friends give me strength. I believe in my success, and I always try to make them happy, train a lot and succeed so that they are proud of me.

My grandfather, who took me to swimming and encouraged me significantly, has unfortunately passed away. But he is my strength, which helps me move forward. I promised him that first of all, I will be a good person, devoted to family and secondly, I will become an Olympic champion. I do my best to achieve that goal; it's my dream.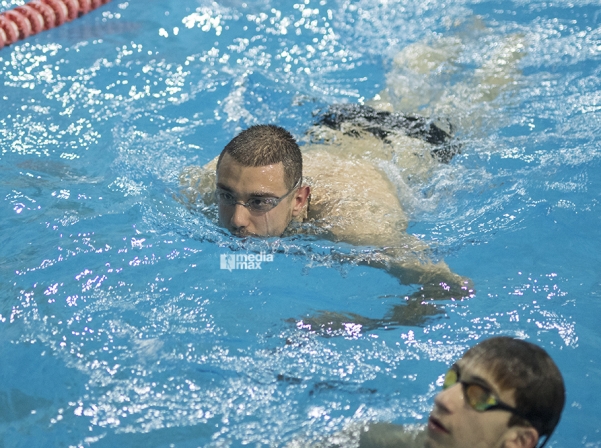 Photo: Mediamax


Secret of success and training in Armenia: Only those achieve success in sport, who wish to win. They are led by their intelligence and muscles only help them. We attach importance to trainings outside the water. I do a lot of physical exercises; work on having strong muscular system to be stronger and more flexible in water.

We have competition in Armenia, but swimming isn't well developed here. The low number of swimmers is conditioned by the fact that we don't have a sea, and few people bring their children to the swimming pool. I advise people to learn how to swim for pleasure, health and further successes. This is a very beautiful discipline, which keeps you healthy and in shape.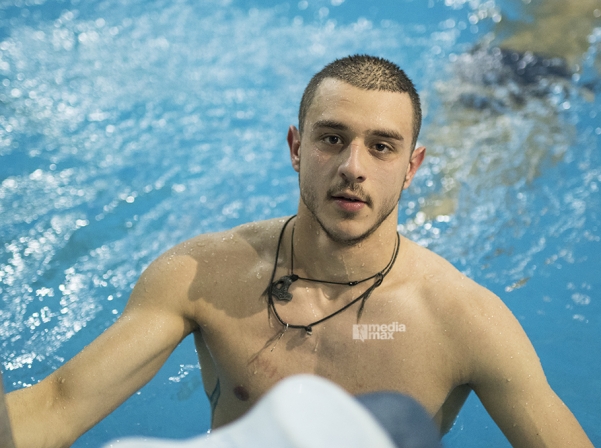 Photo: Mediamax


The preferred style and crazy friends: I prefer freestyle swimming, but I also like breaststroke. However, my coaches tell that the latter will not bring me much success. Nevertheless, I do a lot of breaststroke during the trainings.

I think that one should learn something from all medalist athletes. For example, I learn from my Ukrainian friend Denys Kesil, who took the 2nd place in Buenos Aires. We are 4 friends: I, Denys, Yordan Yanchev and Tishu Todorov. We are very much alike: we have goals, we are active, curious and a little bit crazy. We always say that we are brothers, just from different mothers.

When music always accompanies you: Music is everything; I can't imagine a day without music. I try to sing in my mind, as I don't play any musical instrument. I like performances of Lamb of God band, especially the song called "Embers". I wish to learn playing electric guitar one day, but currently I don't have time to do that, as I have to train a lot.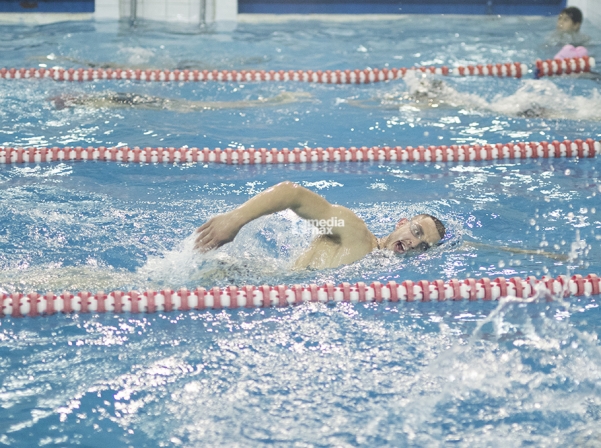 Photo: Mediamax


Towards new competitions: Currently I have a very saturated schedule. I train at Grand Sport from 7:30 in the morning, and then I go to school. Having a little bit of rest at home, I go to Davit Hambardzumyan Swimming Pool and train there until the evening.

I will participate in the World Championship in China this December (25m pool). I know that it is going to be hard, but everything is possible, and I am committed to improving my results and qualifying for the final once again.

Gohar Nalbandyan talked to Artur Barseghyan
Photos by Emin Aristakesyan