Armenia has given the world many gifted weightlifters. The sport is popular, so young athletes fill in the ranks of the national teams. This edition of Mediamax Sport's "Future stars of big-time sports" column tells about one of these young weightlifters, Liana Gyurjyan.

Sport: weightlifting

Weight class: 76kg

Personal coach: Ashot Danielyan

Age: 16

Place of residence: Getazat village, Ararat marz

Education: 12th grade, Norayr Manaseryan School

Favorite subject: physics

Sport idol: Tatiana Kashirina

Hobby: listening to music, reading, star gazing

Favorite singer: Rihanna

Achievements: gold medal in European Youth Championship 2017, silver medal in World Youth Championship, 4th place and silver medal for clean and jerk in European Senior Championship 2019; participation in the Youth Olympic Games

Goal: win an Olympic medal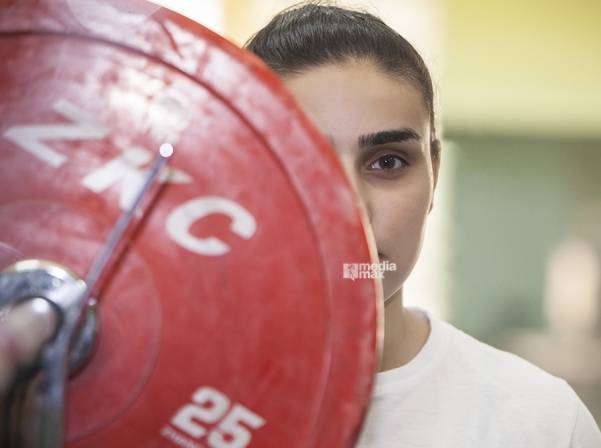 Photo: Mediamax


How she got into the sport: I was always into sports. I practiced wrestling for 8 months in our village, but to be honest, I didn't really like it. My grandfather trained me. When he noticed I didn't like wrestling, he took me to the training hall and recommended weightlifting. I took his advice and now I can see it was the right decision.

I was 9 years old when I came to "Spartak" training hall in Yerevan. My first coach Khorik Danielyan, God bless his soul, didn't want to take me in because I was so young, but his son, my current coach, said he would allow me to train. That is how I got into weightlifting.

Striving for strength, and the freedom granted by parents: When I walked into the room and saw the boys lifting heavy weights, I decided at once I wanted to become stronger. I tried to lift more at every training session so that I could win medals one day, achieve my goals and fulfill my parents' dream.

They always gave me the freedom to choose profession and do what I like. They are a huge support for me, and I work hard to meet their expectations.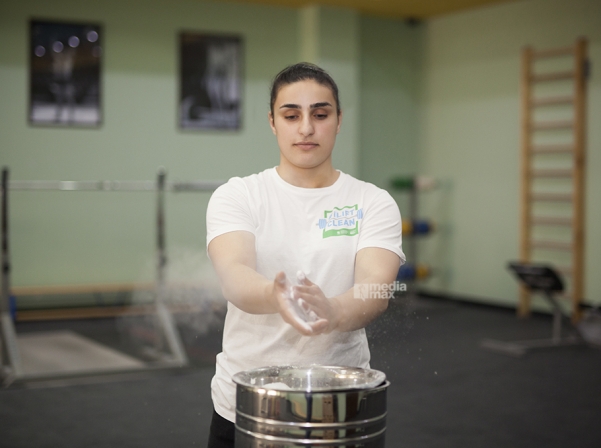 Photo: Mediamax


Big love: I can't say what exactly attracts me to this sport. Weightlifting is a world I live in. I fell in love with it immediately and now it is a big, big love. I can't imagine myself without weightlifting. I love everything about it: the challenges, the competitions and unique moments afterwards.

Any occupation has its challenges. I think overcoming them is a victory for the athlete. You should keep moving forward and never give in.

The first call to the national team: I can recall clearly the day I got the first call to the national team. I had a poor performance in the tournaments in Vanadzor. Head coach Artashes Nersisyan told me I didn't lift enough weight to get into the team, but he would include me anyway to work with me.

I was so happy. I counted days before I went to the training camp. I was 13 at that time, and when I entered the training hall, I saw all the strong girls working. Nazik Avdalyan and Hripsime Khurshudyan gave me good advice and me how to work. It was great to train with them, to have strong female athletes pay attention to me.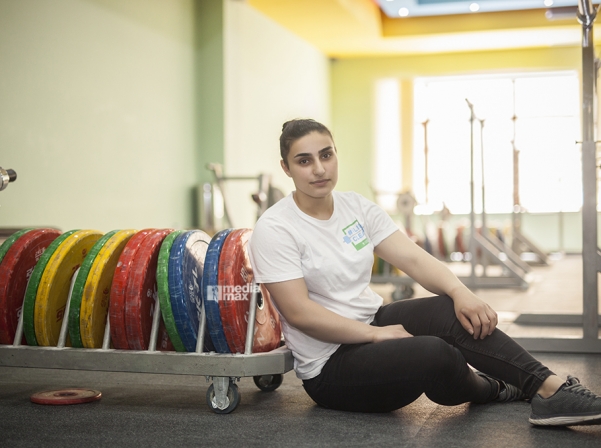 Photo: Mediamax


Overcoming nervousness: I finished 4th in my first European Youth Championship. I expected more from myself, but I guess I was too tense and the nerves got the better of me.

As an athlete, you know your level, you know if you are ready ahead of the tournament. You have to overcome nervousness and show what you can do.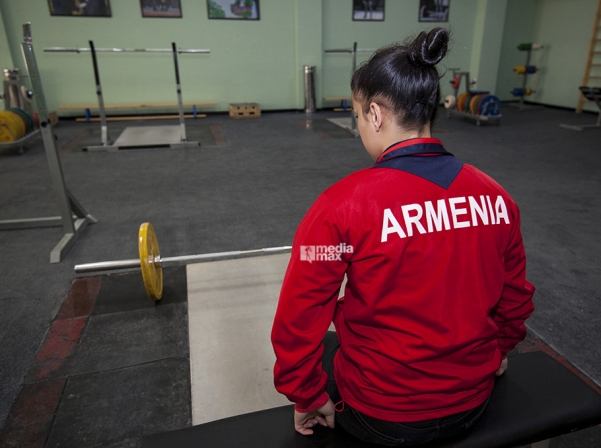 Photo: Mediamax


Beating yourself first: In order to win, you have to believe in yourself and trust the coaches. They show you what to do, but you are the one to do it.

Medals demonstrate the achievements of the athlete and the coaches. They encourage you to do more. I always think of winning when I train. Not only winning tournaments, but also winning against myself. Beat yourself first, and you can beat the weight and the competitors. My medals show my journey and my story.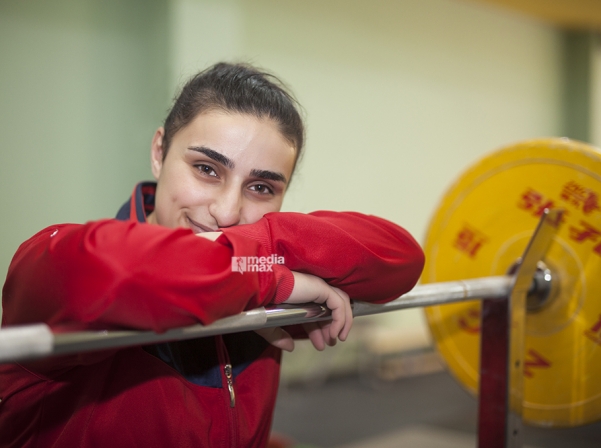 Photo: Mediamax


Be ready mentally and keep improving: During the Youth Olympics I realized that in such important tournaments you have to be ready mentally first. Your brain understands your ability during the training and you need to keep that confidence. Besides, the coaches would never tell to lift the weight they think you can't lift. Their instructions are very important. Just listen to your coaches and be confident.

Both defeat and victory put a responsibility on you. You learn from defeat, it makes you stronger. And you shouldn't stay proud of one victory or medal forever. As Pashik Alaverdyan would say, we can't work if we're happy with ourselves.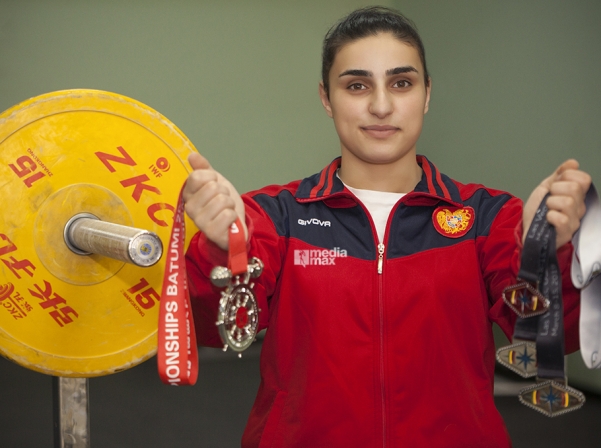 Photo: Mediamax


A good start to the year: I have competed in two tournaments already this year. First I won the silver medal in the World Youth Championship. I thought I would lift more, but I'm happy I finished second.

The second tournament was my first European Senior Championship. I decided not to regret too much if something doesn't go according to my plan, because I'm still very young and I have time to improve and win medals. That is why I wasn't that nervous in Batumi. I took the 4th place and won silver for clean and jerk. It's important that the coaches are happy with my performance.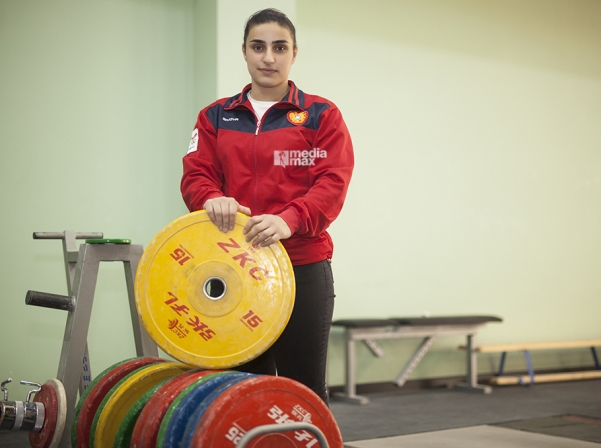 Photo: Mediamax


Forgiving, hard-working and talented: I don't like wasting time on unimportant things. I'm never rude to people, and even when conflicts happen, I always make the first step towards reconciliation.

In weightlifting, the most important thing is to believe in yourself. You can't overcome any obstacles if you don't have a strong will. Of course, you have to be hard-working too, but I know girls who train a lot and still don't achieve anything. I think it takes both talent and hard work to make a good athlete.


Gohar Nalbandyan talked to Liana Gyurjyan
Photo: Emin Aristakesyan