Grandmaster Tigran Petrosyan had impressive and beautiful games not only as an Armenian national team member but also in individual tournaments.

We hosted Chess Olympiad double champion Tigran Petrosyan Mediamax Sport "Unforgettable Victory" series.

There have been a lot of unforgettable victories in my life but I would like to single out the victory over Chinese Li Chaoin, at the last tour of the Chess Olympiad in Dresden 2008.
We had prepared for the opening very well which gave me a small advantage. I was trying to control the situation as much as I could to increase the pressure and not to let go of the advantage. There came a moment during the game that I understood: it was over: the victory would be mine.

It was my first major tournament and I was under a pressure of responsibility. That game was to decide if Armenia could become the winner of the Olympiad or not. That game will be long remembered because of its importance.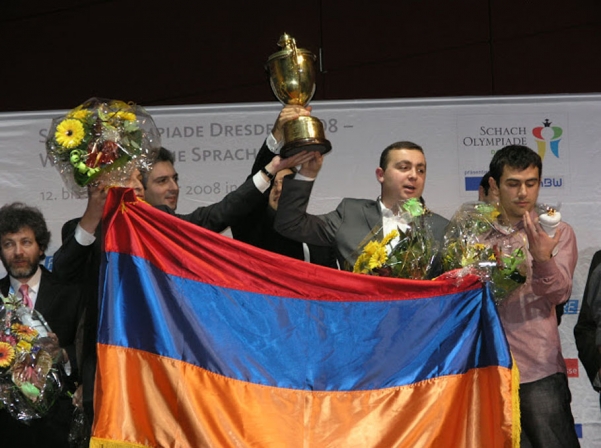 Photo: tiscalinet.it


Strong national teams participate in International Olympiads and it's very difficult to defeat them. You should believe in your own strength and show your best game. We were able to do this and became the champion as a result.

I was feeling happy, satisfied and incredibly proud after the game.

One of my childhood goals had come true. I had been striving towards it for many years. Our team celebrated the victory for a long time. These are indeed, unforgettable memories.

Now, I feel happy as I remember the victory, acknowledge that I could grant a victory to my team and our nation that day and prove that I deserve to represent Armenia.

Gohar Nalbandyan shared the joys of the win with Tigran Petrosyan