This time, Heroes from the Past series tells about the Olympic bronze medalist, 2-time European and 16-time USSR champion Davit Hambardzumyan, who would have turned 60 on June 24.

Diving replaced gymnastics

The Hambardzumyan family was athletic. Davit's father Grigor Hambardzumyan played in "Lernagorts" Kapan football club for many years, as well as in "Spartak" Yerevan (later "Ararat"). Davit's Mother Alice was a gymnast.

"We learned to swim in Kapan. Mother also took us to gymnastics. Me and Davit met Armenian diving team at the opening of the swimming pool in Kapan, which was the first time we talked to professional divers," recalls Davit Hambardzumyan's elder brother Albert Hambardzumyan.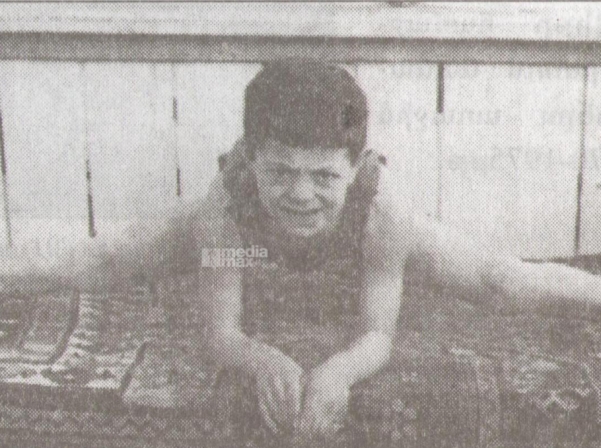 Young Davit

Photo: Edvin Grigoryan


After the family moved to Yerevan, Alice Hambardzumyan decided to take the boys to gymnastics classes again, but the eldest refused to go.

"I told mum that I'd take Davit to diving with me. Davit was a catch for Lavrenty Taroyan, a ready athlete. When he saw my brother, he forgot about us," tells Albert Hambardzumyan with laughter.

However, Davit remained tied to gymnastics. He confessed years later that Olympic champion Hrant Shahinyan contributed a lot to his success.

"I won the USSR qualifying competitions for the Olympic Games in Moscow. I didn't know that Shahinyan came to watch my performance. I always felt confused and guilty when I saw him, because I attended his school before going into diving. Shahinyan hugged and kissed me and said that the only diving part of my favourite sport is the jump into water, and the rest is gymnastics. The admonitory talk with Shahinyan was very valuable for me."



The 16-year-old boy and the Olympic Games



Davit Hambardzumyan managed to achieve significant progress in a short period of time. His performance at the USSR Championship was noticed, and he received an invitation to the national team.

The competition between the strongest divers of USSR and USA was held in 1971. That was where the future participants of the next year's Olympic Games would show themselves. Suddenly, a 15-year-old boy takes the podium and leaves a great impression. That boy was David Hambardzumyan, unknown to the public yet.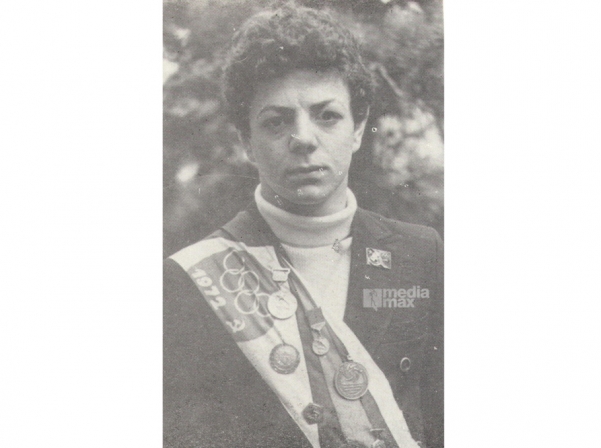 Young Davit

Photo: Edvin Grigoryan


Munich hosted the Olympic Games in 1972, and 16-year-old Davit was on the USSR diving team.

The head coach of Armenian diving team and Davit's friend Hrachya Chandiryan tells that the young diver was in the top 3 until the last but one dive. However, David made an error and took the 5th place: "Davit's youth hindered him, otherwise he would have returned with a medal."



The long-standing captain of USSR team



Davit's family and friends tell that he was very kind and caring, but also demanding and responsible. It's no coincidence that he was the captain of USSR diving team.

Davit Hambardzumyan and his wife Karine have a daughter, Helen. Hrachya Chandiryan recalls that Davit loved his little girl very much: "We went to the park together, played with Helen. Later he brought her to the pool, put arm bands on her, and she would yell her name and jump into the water. That made Davit very happy."

After win

Photo: Edvin Grigoryan


"Davit loved cartoons. When we had free time, he watched them. He also loved to eat and sometimes overate, gained weight. Then he would train hard, put on warm clothes in the summer heat and run," continues Chandiryan.



He who turned diving into air ballet



"There was something artistic in Davit's dives, he performed beautifully. They said that Davit painted and not dived. It came from inside of him, it was something indescribable," tells Chandiryan.

They say he made artistic changes to the dives, trying to find the best versions. They also say that he believed that diving is turning into a celebration of beauty, air ballet.

Davit Hambardzumyan was the first and the only athlete in the USSR to bow to the judges and fans after coming out of the water.

Davit Hambardzumyan went to Montreal in 1976 and participated in the Olympic Games for the second time. He failed to correctly finish the dive due to an arm injury.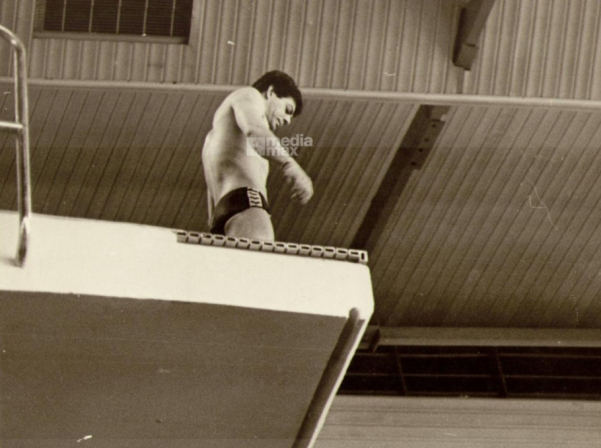 Davit Hambardzumyan

Photo: Edvin Grigoryan


"The first objective of participation in any competition is to win and show good results. However, sometimes you can ease the psychological tension, which often makes you lose control," confessed Davit Hambardzumyan.

Generally, his friends and family tell that diving as a sport is lucky that Davit chose it. He could have become a wrestler, a boxer or a football player.



The 3rd try and the bronze Olympic medal



Moscow hosted the Olympic Games four years later. Davit won a medal at his third Olympiad, but his family recall that the bronze was "just a consolation for him, as he could do more".

Davit Hambardzumyan took the third place in the Olympic Games in 1980, becoming the only Armenian diver to win the Olympic bronze.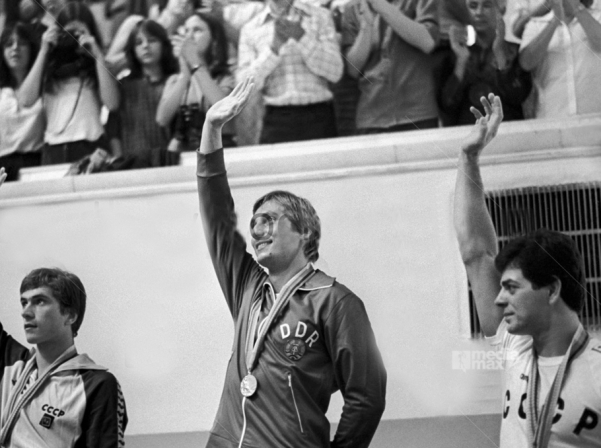 Olympic bronze medalist

Photo: alamy stock photo


The USSR team didn't go to the next Olympic Games in Los Angeles and organized games of their own.

"He said that the European Championship in 1984 was his last, that he would win and leave sport. So he did," notes his brother.



The educated and clever official



After leaving sports, Davit Hambardzumyan was appointed the Head of Dinamo Training Department, and later the Assistant to the President of the Armenian Sport Committee.

"I realized that Davit isn't just a great sportsman, but a good person and organizer too. Davit was an exception among sportsmen, he was very well-read and intelligent. I always said that he would have a great future, because he had everything - he was educated, he had good reputation, nice
demeanor, and he was a charming and handsome man," tells Ruben Hakobyan, the First President of the Armenian National Olympic Committee.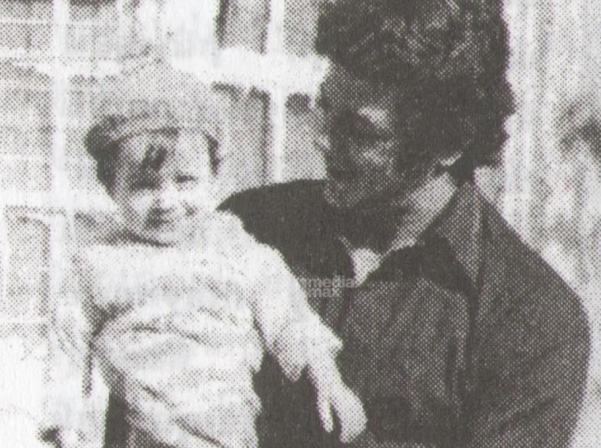 With daughter Elen

Photo: Edvin Grigoryan


Davit Hambardzumyan's dream was to develop water sports in Armenia, build a swimming pool, teach children to swim. Unfortunately, all his plans remained unfulfilled…

January frost, half-celebrated holidays, and death of 35-year-old Davit

It was the very beginning of 1992, and people were still celebrating, when the news that the brightest name of Armenian diving Davit Hambardzumyan passed away at the age of 35 broke to his relatives, friends, and sport lovers. He had no health issues, his heart simply stopped.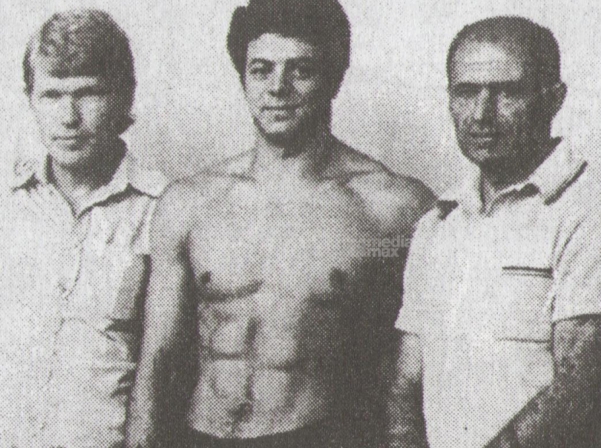 With coach

Photo: Edvin Grigoryan


Ruben Hakobyan: "It was January 5. Davit came to my place. Four days later I heard that he died. I was very upset. He loved life so much, it seemed like he felt he would leave us early and wanted to do everything at once."

Hrachya Chandiryan: "Davit was a lively boy, and he never turned arrogant. He always listened to everyone's advice, held himself as an equal, and tried to help. It was the birthday of a friend of ours one of those days, and he apologized for not being able to come. Next day we learned that he passed away."

Natela Hovhannisyan: "It was freezing cold on the day of Davit's funeral. I stayed at the Chess House with Hrant Shahinyan, Albert Azaryan, Norayr Musheghyan and Vladimir Yengibaryan to honor David's memory. Shahinyan said that it was them who should have died, not the young athlete."



When we say diving, we mean Davit Hambardzumyan



The only diving school in Yerevan was named after Davit in 1993, becoming Davit Hambardzumyan Junior Specialized Diving School Of Olympic Reserve.

"Every sport has a history maker, and Davit made history in diving. When we say diving in Armenia today, we mean Davit Hambardzumyan," sums up Hrachya Chandiryan.

Davit Hambardzumyan was born in Kapan on June 24, 1956. He was a 16-time USSR champion, a European champion of 1981 and 1983, and a bronze medalist of the Olympic Games in Moscow, 1980.

He participated in Munich Olympic Games in 1972 and Montreal Olympic Games in 1976.He became a bronze medalist in 1980, then two times European champion.

He was the Assistant to the President of the Armenian Sport Committee in 1987-1992.

Davit Hambardzumyan passed away on January 9, 1992.

Gohar Nalbandyan