In 1923, the Shahinyan family residing in Gyulagarak village in Stepanavan welcomed their son, Hrant. Hrant's parents could not even imagine that their son would one day not only attain great achievements but would also become the first Armenian champion of modern Olympic Games.

Mediamax Sport's Heroes from the Past series is happy to present Olympic and World Champion, medalist at various tournaments, gymnast Hrant Shahinyan.

Replacing violin with gymnastics

In 1930, the Shahinyan family moved to Yerevan from Gyulagarak and nine years later Hrant made his first stride.

Before gymnastics, Hrant was playing the violin, however, he did not belong in the world of violin, especially if we consider that his instructor was not happy with him. Thus, he replaced violin with gymnastics.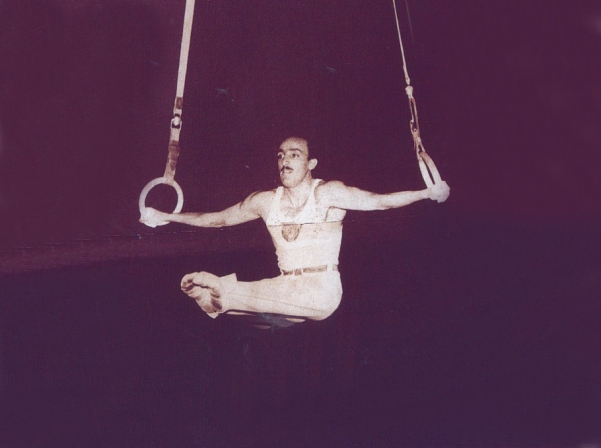 Photo: from personal archive


"Our Physical Education teacher had opened a group and it's where I got to know him," recalled Shahinyan's wife Emma Shahinyan.

Till 1941 Shahinyan used to take part in USSR Junior Championship and become a gold medalist.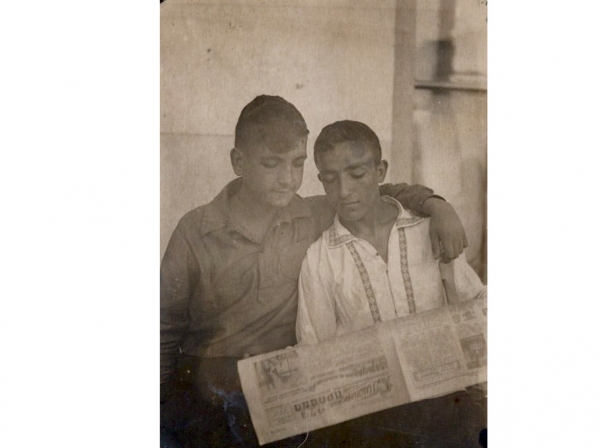 Photo: from personal archive




War, front, again trainings and love



Everything changed in the athlete's life after the Great Patriotic War broke out. Shahinyan who had not even turned 18 volunteered to fight in the front.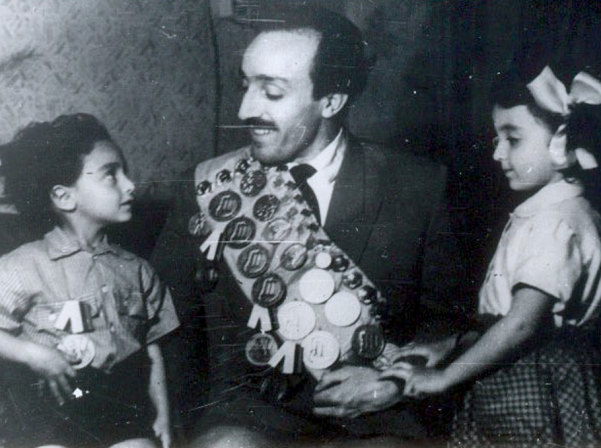 Photo: from personal archive


Although at attempt was made to keep Shahinyan in the back, he left for the frontline and two years later he returned to Yerevan after being wounded in the leg. He managed to resume trainings only in 1946, after a lengthy recovery period and gradually started recording great achievements.

"During a summer camp one of our boys told me 'after everybody is asleep, I will cough and you will go out.' I went out and asked what he wanted and he answered it was not he who wanted something, but Hrant... In a nutshell, we started dating," recalled Mrs. Emma.

Photo: from personal archive




Six medals at once and the solemn welcome in Yerevan



Shahinyan first major achievement was in Budapest in 1949 where he won six medals in the Global Festival of Youth and Students.

"During the Budapest tournament I was in Moscow. Hrant came after the competitions and we returned to Armenia by train. President of the Sports Committee Simonyan had assigned to find out in which wagon Shahinyan was traveling in order to meet him in Yerevan. The train stopped in Yerevan and Hrant was looking out of the window when a few young men approached him hastily and asked if we knew which Hrant Shahinyan's wagon was. He said, 'I am Hrant, what's up?' And these guys said, 'Hey man, we have no time for joking.' With these words they ran to the other end of the train," said Shahinyan's wife laughing.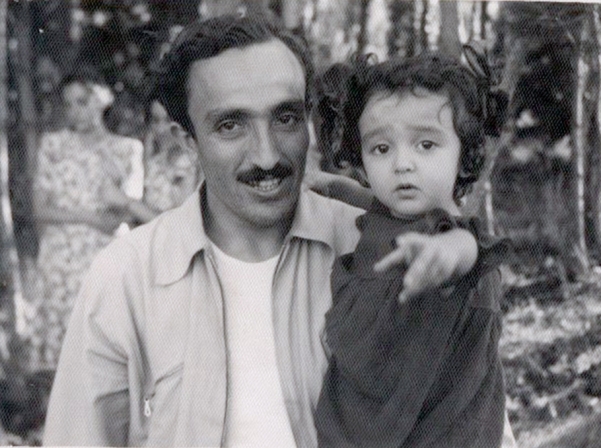 Photo: from personal archive


A number of fans had come to meet him in Yerevan in the morning. They were accompanied by the brass band.



1952 Olympic Games: Armenians have a champion



He was included in the USSR team and left for 1952 Helsinki Olympic Games.

His main opponents at the Olympic Games were Viktor Chukarin and Valentin Muratov. However, no opponent could stand between him and his bids for the Olympic gold medal. Shahinyan simply shined on the rings.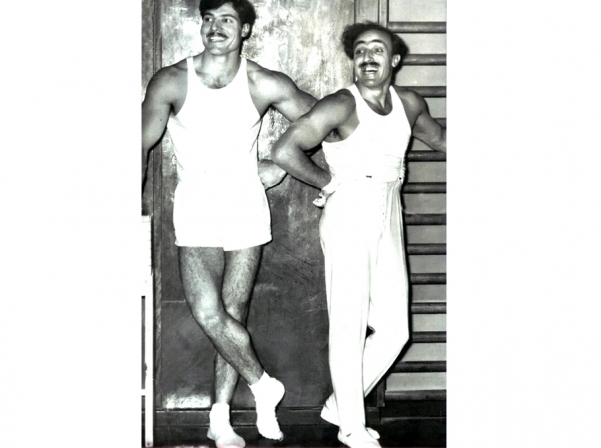 Shahinyan and Azaryan

Photo: from personal archive


Hrant Shahinyan became the first Armenian Olympic champion. However he did not limit himself to only one medal. The Armenian athlete became a silver medalist in pommel horse and all-around. Shahinyan performed a trick in pommel horse, which was later named after him. At Helsinki Olympic Games Shahinyan won another gold medal as well – this time in the team competition.



World champion who gradually engages in coaching



After the dazzling victory at the Olympic Games, Shahinyan took part in the World Championship in Rome, 1954, where he won two gold medals and one silver.

In 1956, USSR coaches started including younger gymnasts in the team and after that Shahinyan decided to cap his professional career and gradually switch to coaching.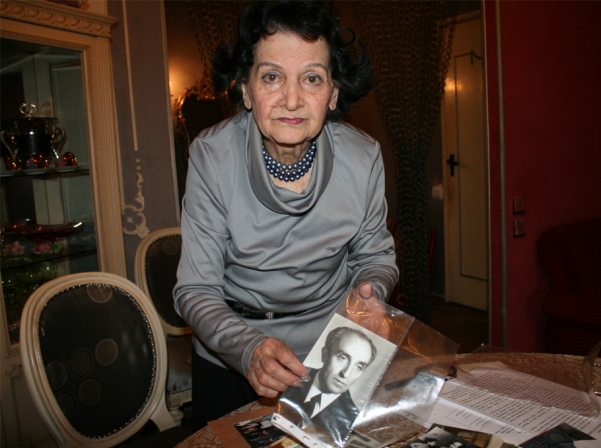 Photo: Mediamax


Hrant Shahinyan wanted Armenia to have a large gymnastics center where he would be able to pass on his practice to the young.

Owing to his efforts, the first school specialized in gymnastics opened in Yerevan. It's presently named after him.



Shahinyan's 500+2 children and the stolen medals

"Shahinyan received an apartment in the building the Sports Committee had built on Baghramyan Street. We had nothing at home; we equipped it with some furniture we found from here and there and finally settled. Every small achievement was great happiness for us. But we were endlessly happy to have a roof and we loved each other," recalled Mrs. Emma.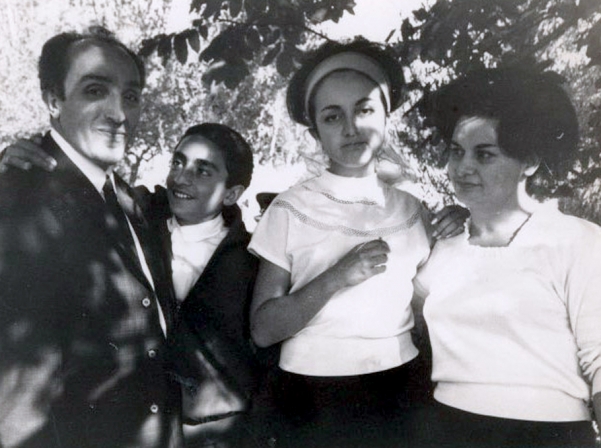 Photo: from personal archive


Over all these years there was only one thing that made Emma Shahinyan unhappy, "He used to often leave me alone because of his trainings and tournaments."

The Shahinyans have two children – a daughter and a son. However, as Hrant used to say, he has 500+2 children including his gymnasts.

Interestingly, Hrant Shahinyan did not like shopping. According to Mrs. Emma, during their life together he probably went to the market once or twice, at that, just to help his wife.

Mrs. Emma recalled another story as well. The National Museum had organized an exhibition of Olympic medals during which somebody stole the gold medals of Hrant Shahinyan and Albert Azaryan and Vladimir Yengibaryan's champion's belt. When the organizers offered monetary compensation to the athletes, Shahinyan said, "Money cannot replace a medal; a medal is not just a piece of metal."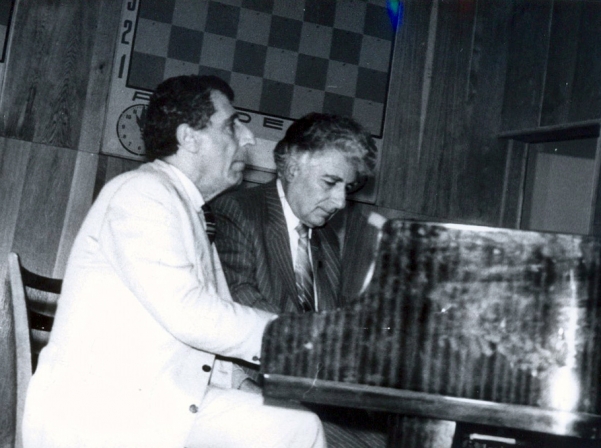 Babajanyan's and Mirzoyan's surprise on Shahinyan's birthday
Photo: from personal archive
As a conclusion
Hrant Shahinyan was born in Gyulagarak village in Stepanavan in 1923.
In 1941, he volunteered to fight in the front and participated in World War II. He got wounded two years later and returned to Armenia.
He attained his first great achievement in Budapest where he won six gold medals at the Global Festival of Youth and Students. He is a seven-time USSR champion, master of sport, international arbiter and Honored coach.
Shahinyan won two gold medals and one silver medal at 1952 Helsinki Olympic Games. He became two-time World champion in 1954 and won the bronze medal in the all-around.
After capping his career, Shahinyan engaged in coaching and opened a gymnastics school, which is presently named after him.
In 1972, he was awarded the title of the honorary citizen and honorary professor at the Armenian State Institute of Physical Culture (ASIPC).
In 1995, he was awarded Pierre de Coubertin's "Fair Play Prize" in Stuttgart.
A postage stamp dedicated to Hrant Shahinyan was issued. He was also included in "100 Armenians" book.
The Armenian National Olympic Committee has established a special medal in his honor.
Gohar Nalbandian