Since winning her first WTA-title in Baku in 2015, Margarita Gasparyan (WTA-91) hasn't been lucky. The Russian tennis player of Armenian descent suffered a knee injury (meniscus), keeping her away from the game during large parts of 2016-2018. Unsuccessful surgery caused delay to her recovery process.

In the second half of 2018, Gasparyan, born and raised in Moscow, showed the tennis world that she is back. By winning the WTA-tournament of Tashkent in September last year and going on to beat her first top10-player (Kiki Bertens) weeks later in Austria, the 24-year old player seems ready for a great 2019 season.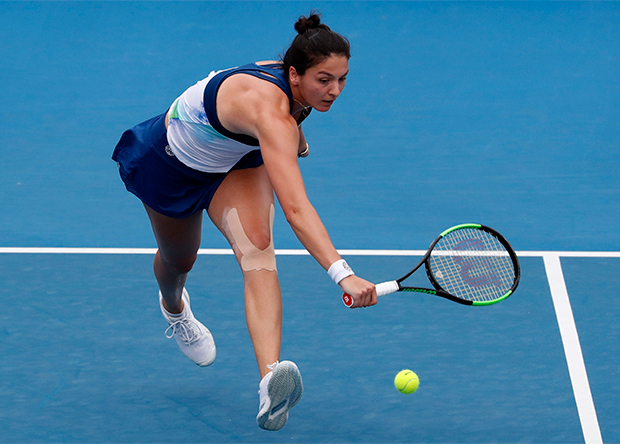 Margarita Gasparyan at Australian Open-2019

Photo: REUTERS


Gasparyan has started the year within the world's top100 and is aiming for a place among the world's tennis elite. With her height (1.83m) and rare one-handed backhand, she possesses a nuanced power game unlike any other player on the WTA Tour. Under the guidance of experienced Spanish coach Carlos Martinez, who formerly worked with two-time Grand Slam Champion Svetlana Kuznetsova, Gasparyan should be a force to be reckoned with, as long as she stays healthy and injury-free.

Mediamax Sport was able to have a quick word with Gasparyan during the Australian Open in Melbourne, this year's first major tournament. Unfortunately she lost in the second round to Belgian world number 14 Elise Mertens (6-1, 7-5), but there was enough time to find out just how Armenian Gasparyan really is.

How much of a role do your Armenian roots play in your life?

I love Armenia. I love Armenian people. I spent some time there when I was younger. Unfortunately the reason for going back was the death of my grandfather. But it was really nice to be there. If I will have a chance to go there again, I will absolutely do it. The last time I was there was already 2-3 years ago. We have family there on my father's side, in Etchmiadzin.

How is your Armenian?

My father (Melik) is from Armenia, but he never spoke with me in Armenian during my childhood. That's why I can't speak it myself unfortunately. I do understand what is being said when I hear Armenian though.

Margarita Gasparyan at Australian Open-2019

Photo: REUTERS


Do you have any contact with other players with Armenian roots, such as Karen Khachanov?

We have a good relationship, but we are not close friends. I'm really proud of how well he is doing. He is very close to the top10 on the ATP Rankings.

What would be your goal this year?

I really want to get into the top10 as well. If I stay healthy, I know I can get good results. Whether it is getting to the top10, top20 or top30 this year I don't know, but good results will come I'm sure.

David Avakian, Melbourne, specially for Mediamax Sport