In 1963 Tigran Petrosyan became world champion for the first time after winning 12.5:9.5 the competition with Mikhail Botvinnik. The joy and enthusiasm in Armenia back those days was unbelievable.

This edition of Mediamax Sport's In One Shot series is dedicated to the picture of Martiros Sarian and Tigran Petrosyan, taken after the latter's victorious return.

Sophie Sarian, Chief Curator of Martiros Sarian House-Museum and granddaughter of the artists, told us the story.

The picture was taken at Sarian's workshop in 1963. Petrosyan was supposed to participate in an important tournament that year and Sarian wanted him to win, so he sent a piece of consecrated bread to encourage Petrosyan.

Tigran Petrosyan was able to achieve a great success, and when he returned from Moscow, Sarian received the world champion and painted a portrait of him.

This photo illustrates his working process. His granddaughter, current Director of the museum Rusan Sarian is also in the picture.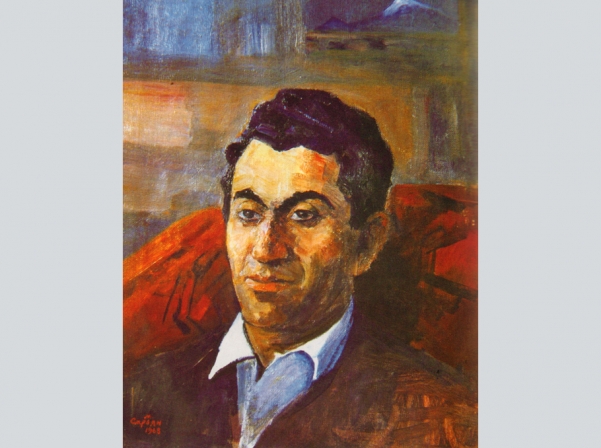 Photo: From the book "Tigran Petrosyan"


This is the ready-made canvas. The master applied a great trick: Petrosyan's eyebrows resemble Mount Ararat (Sis and Masis), which are pictured at the upper right corner.